RESERVING A BENGAL KITTEN
First, have you researched the Bengal breed? Have you researched reputable breeders and their programs? Have you filled out our kitten questionnaire?
Then, read on!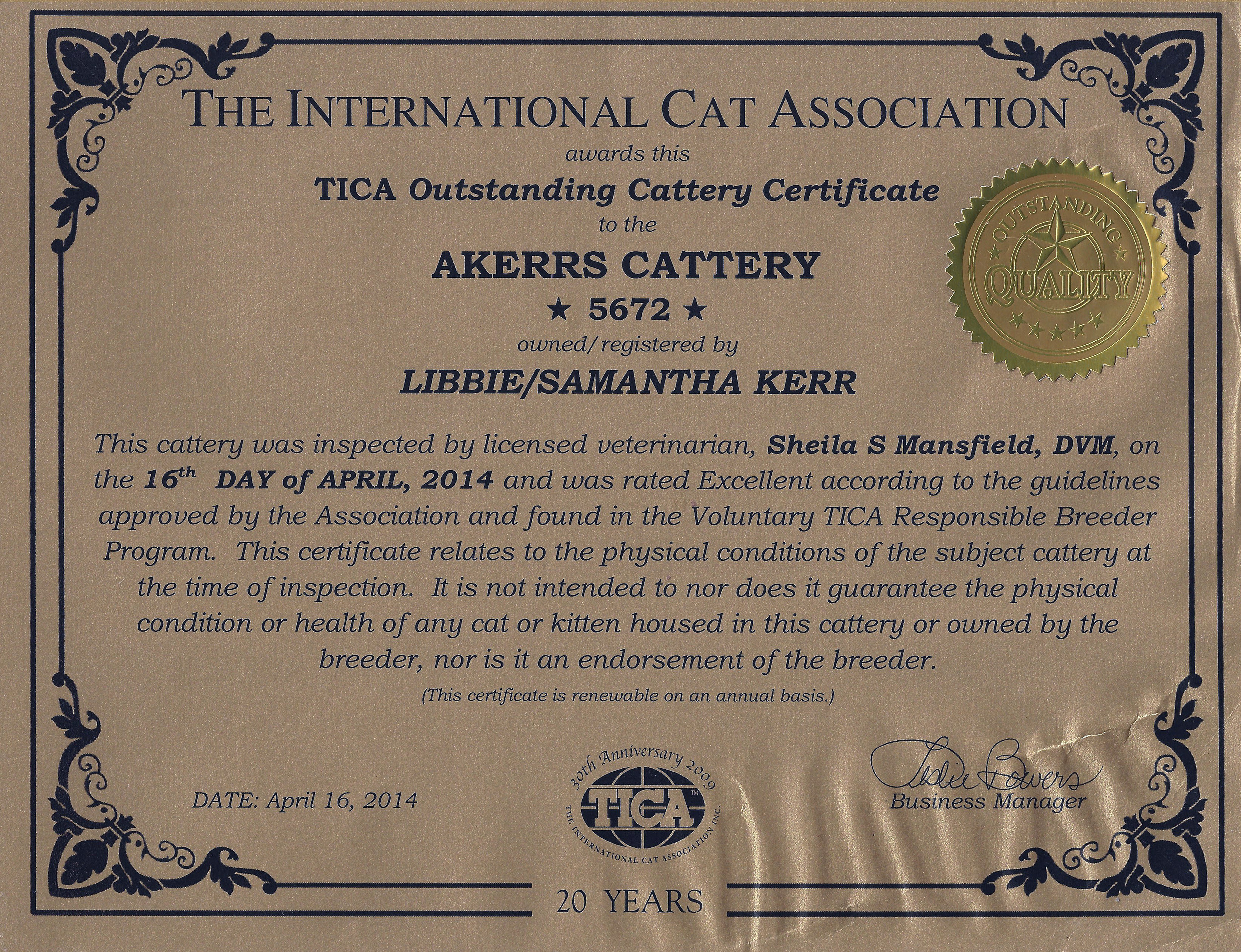 We stand behind our kittens and our lines.
A-Kerr's was the longest running TICA Outstanding Cattery until the end of the program in 2016. We pride ourselves on third party recognition of our dedication to the breed and our cats.
A-Kerr's responsibility is two fold:
To the individual cat/kitten

To you
Our focus is to give a complete picture of the cattery and answer any questions and concerns you might have before bringing this new life into your home. The highest priority is to make sure you have the Bengal kitten you want and that the kitten has the home he/she needs.
It is helpful to know:
Have you had cats before?

What is your experience with the Bengal breed?

What are you expecting in a kitten?

The most important characteristics you are interested in?

Do you have an active family with young children?

Other animals... dogs, cats, etc.?

Color, pattern, and overall look you are interested in?
This helps place the right Bengal kitten in your home.
Deposits and Waiting List
The demand for A-Kerr's Bengal kittens exceeds the supply especially now that the number of females has to be reduced to meet the USDA/APHIS regulations. So, patience and trust are important on both our parts! You can reserve a "spot" on the waiting list for $300 which will lock your position in place. The waiting list deposit is non-refundable. This deposit is applied toward the total purchase price of your new Bengal kitten. Waiting list time is variable as many people have specific traits that they are wanting so please email for an estimated wait time.
Kittens are priced individually:
Pet Quality kittens: Marbles and Spotted kittens begin at $1300, Rosetted kittens begin at $1700 and go up in price according to many factors. I give discounts to repeat customers, and military!

Show Alter: $2000 and up

Breeder/Show Quality: $4500 up ...generally speaking I do not sell breeding cats in the US, unless you I have met you and you can convince me that you are an excellent home and breeding program. I can ship internationally as I do hold a USFW import/ export permit as required to ship Bengal cats legally. Please note that if only a courier is used, and USFW is not notified and able to inspect, your Bengal is not here legally because of current regulations. Again, please research your breeder.

Stud Service: Not available unless you have a breeding queen from me or you are an amazing breeder and friend.
There are exceptions but this is the general range.
Prices include:
Spay/neuter. Since 1998, A-Kerr's has worked with Powell Vet Clinic to perform spay/neuter before the kittens leave at 12-14 weeks. Kittens recover faster and are less stressed when done before leaving and data shows that CATS do not have adverse consequences.

Vaccines given by veterinarian.

Microchipping (ISO) with lifelong registration paid by A-Kerr's.

Health Testing:

We guarantee the kittens' health and guarantee no Felv or FIV. (see contract)

We test adult breeding cats for

(Feline Hypertrophic Cardiomyopathy) HCM**

Eye Certifications**

Fecal testing for a variety of organisms / parasites.

Progressive Retinal Atrophy (PRA-b)

Pyruvate Kinase Deficiency (PK-def)

FIV/ FELV

Access by your veterinarian to your Bengal kitten's health history record through Powell Vet Clinic. Your vet can call ours any time to discuss any problems or diagnosis.

Help with behavior and other questions.
Eye Certification**
Breeding cats are scanned and seen through the Ophthalmology Department at Ohio State University Veterinary College. We occasionally will take kittens in to learn more about eye development.
Feline Hypertrophic Cardiomyopathy or HCM**
It is very important to us to be a part of collecting data on different heart diseases that affect Bengals. Not only for the cats but also because by using the feline model, we are actually able to extrapolate helpful information for the human. Ohio State University Veterinary Cardiologists have seen so many of A-Kerr's cats that they began a study and peer review article that will be published in 2015 about the Bengal cat heart.
A-Kerr's follows the suggestions of the cardiologist on the testing schedule of our Bengal cats but much of what we know and understand about heart disease is a snap shot in time. This means that while no one can guarantee that a cat/kitten does not carry for HCM (since it has a variable expression and prediction is not understand completely) A-Kerr's can assure YOUR kitten is as free as we can know. All of the test results are posted on the site for complete disclosure or available upon request. That is all any of us can do today. This testing is expensive.
Please read my article on HCM in our breed, as it appeared in Bengals Illustrated:
https://cdn.fbsbx.com/v/t59.2708-21/17272499_10158332708180007_1861932292058906624_n.docx/HCM-Sami-Kerr-Revised.docx?oh=a809b4a90f9a8ddd3a78401444e78e9c&oe=5A7B22E1&dl=1
Feline Infectious Peritonitis (FIP)
Current statistics indicate corona virus is present in 80-90% of multi-cat households. Of these the young and old are susceptible to a mutation of the virus that allows it to become lethal... again, statistically this is 1-10% of the 80-90% that have a corona virus. Feline Infectious Peritonitis (FIP) effects mainly the geriatric cat and the young. Due to the outbreak of SARS (a corona virus), funding has become available for researchers to study FIP. Cats are an ideal source of information for human application. SARS did not come from cats...but translationally there is much correlation. Work is under way at UC Davis and the cat world anticipates a hoped for break through in the next few years. Until then, we are left with inaccurate tests, mixed recommendations on vaccines, and a lot of heartache. A-Kerr's follows clear practices to minimize exposure by following the latest practices. We do all we can to protect you and your Bengal kitten.
Feline Herpes Virus
Quoting from University of North Carolina:
http://www.cvm.ncsu.edu/vhc/tc/clinical_services/ophthal/conjunctivitis.html
Feline herpes virus is a common disease in cats, causing upper respiratory infection, conjunctivitis (inflammation of the pink tissue surrounding the eye) and in some cases inflammation or ulceration of the cornea.
Feline herpes is a virus specific to cats and is not contagious to humans or other species. The virus is contagious to other cats, although most cats have been exposed to the virus at some point in their life, and have developed immunity. Kittens are often exposed early in life and then become resistant or are protected by routine vaccinations. Symptoms often include upper respiratory infection associated with sneezing and watery eyes, which may seem to completely resolve after 10-14 days. The symptoms may then return in adult cats, primarily as conjunctivitis without upper respiratory infection. Symptoms often recur due to stress from another illness, boarding or moving, or after introduction of a new cat in the home. After recovery from this initial disease, a small percentage of cats develop recurring symptoms. This is similar to people who have recurrent cold sores, which are caused by herpes simplex virus.
To make sure A-Kerr's Bengal kittens are not exposed to any such illnesses the following are done:
Litters are isolated with mother until they have received their first vet check and vaccines.

Kittens are not exposed to any unvaccinated adults or kittens.
Tri-Trichomonas Foetus
http://www.cvm.ncsu.edu/docs/documents/ownersguide_tfoetus_revised_122009_final.pdf
Tritrichomonas foetus is an emerging parasite of felines. This guide is a merger of experimental findings, clinical observations, anecdote, and breeder experience from which the authors have attempted to answer the most common questions and to provide practical recommendations to cat owners. Currently, no assurances can be given that following the recommendations in this guide will result in flawless determination of which cats are infected with T. foetus nor will it guarantee that T. foetus can be eradicated from any given cat or cattery.
A-Kerr's took on TF (as it is called in the cat fancy) with testing, treating and removing any cats with problems from the breeding program. Our approach follows to assure you that this is not an issue for your kitten:
All breeding Bengal cats tested and clear of TF

All mothers tested at least once a year or if diarrhea is observed.

No Bengal cats are intermingled unless they are testing clear of TF

Litters remain isolated from adult population
Our assurances to you. We work at being transparent. We work directly with a veterinarian office that has extensive knowledge on Bengal cats since they have worked with us since 1989. We give you our written word.
Veterinarian Practice suggestions for Vaccine protocol:
http://www.todaysveterinarypractice.com/article.asp?articleid=T1311C05#article